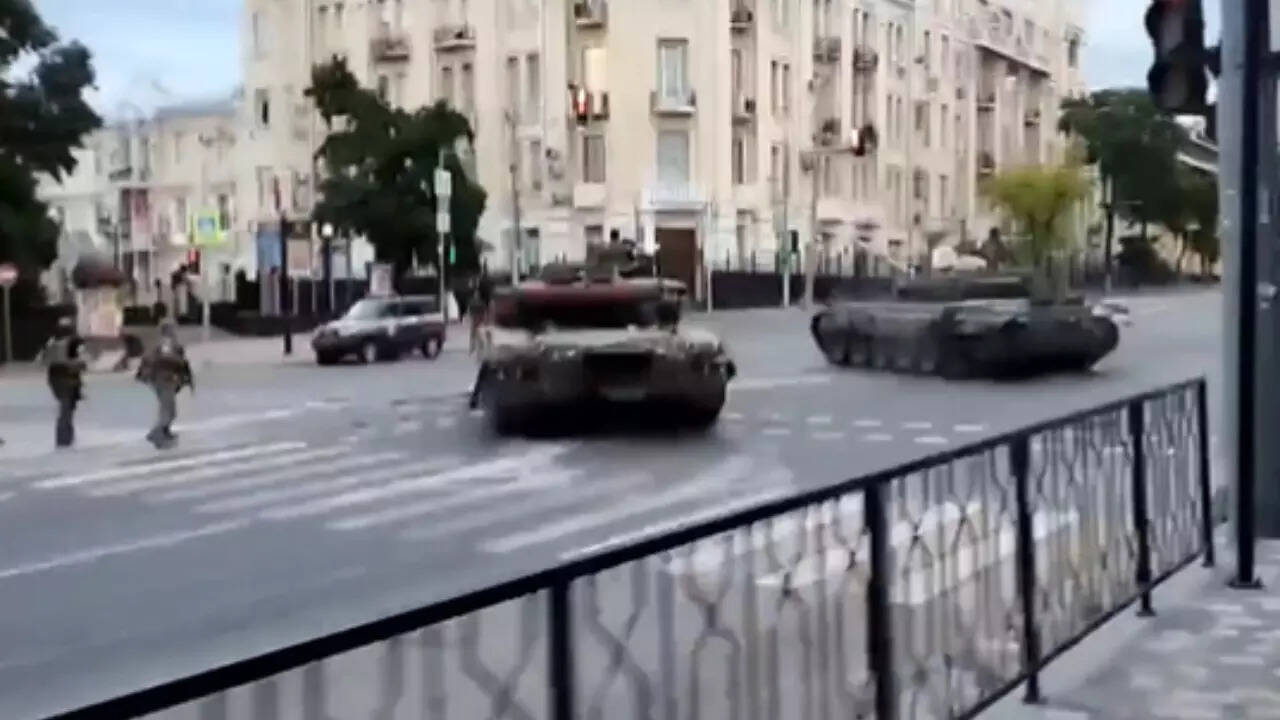 MOSCOW: The pinnacle of Wagner mercenary group Yevgeny Prigozhin introduced Saturday that he was inside the military headquarters in Rostov-on-Don in southern
Russia
, and that his fighters managed town's navy websites.
Prigozhin earlier stated his forces had crossed into Russia from the Ukrainian entrance, vowing to topple Russia's navy management, saying he and hundreds of his fighters had been "able to die."
Russia's navy headquarters in Rostov-on-Don are a key logistical base for its offensive in Ukraine.
"We're contained in the (military) headquarters, it's 7:30 am (0430 GMT)," Prigozhin stated in a video on Telegram. "Navy websites in Rostov, together with an aerodrome, are underneath management," he added.
He stated that planes participating within the Ukraine offensive "are leaving as regular" from the airfield.
"We took (the aerodrome) underneath management in order that the assault aviation didn't strike us, however strike Ukrainians," Prigozhin stated.
He known as on Russians to not consider what they're being instructed on state tv.
"Once they let you know that PMC Wagner interfered with work and that is why one thing on the entrance collapsed.. Issues on the entrance collapsed not for that reason," he stated, addressing Russians.
"An enormous quantity of territory is misplaced. Troopers have been killed, three, 4 occasions greater than what it says in paperwork proven to the highest (management)."
Prigozhin claimed Russia's Chief of Basic Employees Valery Gerasimov "ran away from right here when he discovered that we're approaching the constructing."
Authorities in Rostov have urged residents to remain at house.
Russia opened a legal case in opposition to Prigozhin, accusing him of attempting to start out an "armed revolt.
function loadGtagEvents(isGoogleCampaignActive) { if (!isGoogleCampaignActive) { return; } var id = document.getElementById('toi-plus-google-campaign'); if (id) { return; } (function(f, b, e, v, n, t, s) { t = b.createElement(e); t.async = !0; t.defer = !0; t.src = v; t.id = 'toi-plus-google-campaign'; s = b.getElementsByTagName(e)[0]; s.parentNode.insertBefore(t, s); })(f, b, e, 'https://www.googletagmanager.com/gtag/js?id=AW-877820074', n, t, s); };
window.TimesApps = window.TimesApps || {}; var TimesApps = window.TimesApps; TimesApps.toiPlusEvents = function(config) { var isConfigAvailable = "toiplus_site_settings" in f && "isFBCampaignActive" in f.toiplus_site_settings && "isGoogleCampaignActive" in f.toiplus_site_settings; var isPrimeUser = window.isPrime; if (isConfigAvailable && !isPrimeUser) { loadGtagEvents(f.toiplus_site_settings.isGoogleCampaignActive); loadFBEvents(f.toiplus_site_settings.isFBCampaignActive); } else { var JarvisUrl="https://jarvis.indiatimes.com/v1/feeds/toi_plus/site_settings/643526e21443833f0c454615?db_env=published"; window.getFromClient(JarvisUrl, function(config){ if (config) { loadGtagEvents(config?.isGoogleCampaignActive); loadFBEvents(config?.isFBCampaignActive); } }) } }; })( window, document, 'script', );