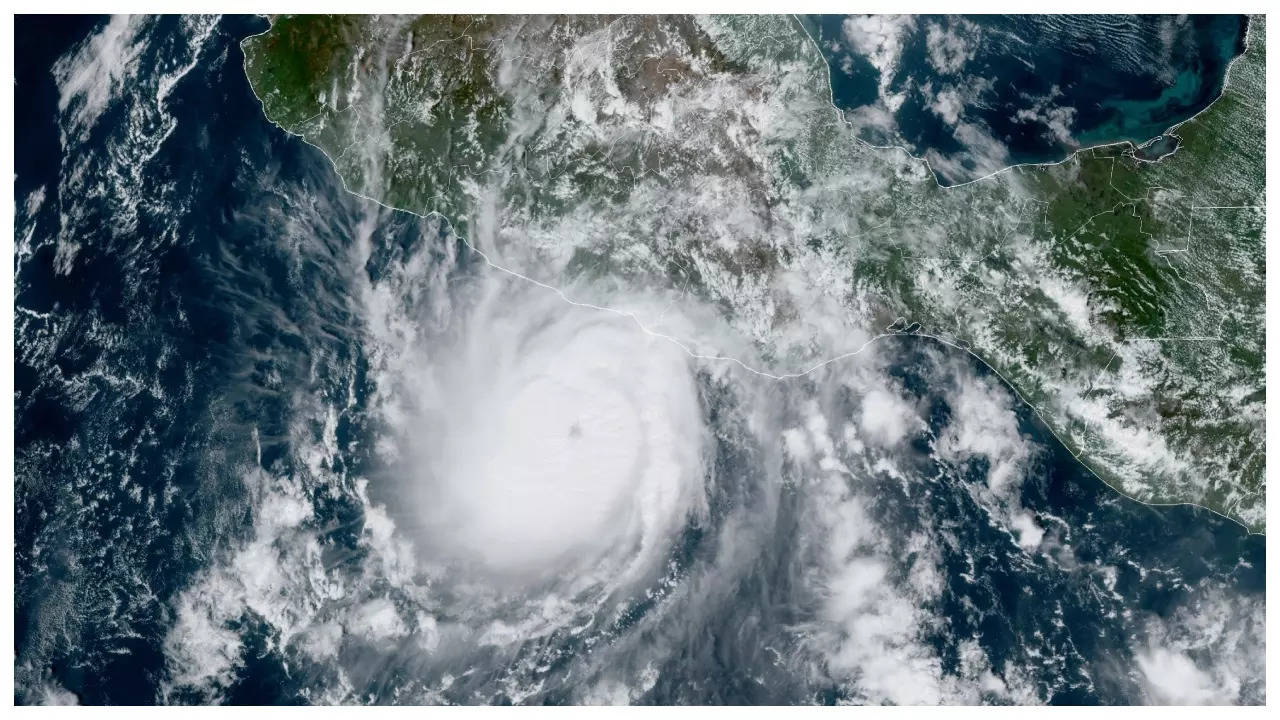 ACAPULCO, MEXICO: Hurricane Otis intensified to a probably "catastrophic" Class 5 storm Tuesday because it barreled in the direction of Mexico's Pacific seaside resort of Acapulco, the US Nationwide Hurricane Middle (NHC) mentioned.
Most sustained winds elevated to close 160 miles (260 kilometers) per hour, in response to the NHC, which put Otis in essentially the most highly effective class of the five-step Saffir-Simpson scale.
"Catastrophic injury probably the place the core of the hurricane strikes onshore," the NHC warned.
"Otis is forecast to stay a Class 5 hurricane via landfall, and fast weakening is then forecast because of the greater terrain of Mexico," it added.
As of Tuesday night, the storm's heart was situated about 55 miles from Acapulco, and a hurricane warning was in impact for the shoreline from Punta Maldonado to Zihuatanejo.
President Andres Manuel Lopez Obrador made an enchantment on social media for folks to maneuver to emergency shelters and away from rivers, streams and ravines.
Troopers have been seen patrolling the seaside of Acapulco, the place guests earlier made the many of the calm earlier than the storm.
"We can't be operating any excursions at present," boat operator Carolina Torres mentioned, voicing hope that Otis would possibly weaken earlier than making landfall.
"If it hits us, that is very critical for us," she added.
Rainfall of as much as 20 inches (51 centimeters) was anticipated throughout Guerrero and elements of neighboring Oaxaca state, the NHC mentioned.
"This rainfall will produce flash and concrete flooding, together with mudslides in areas of upper terrain," it warned.
"A probably catastrophic storm surge is anticipated to supply life-threatening coastal flooding," it added.
Hurricanes hit Mexico yearly on each its Pacific and Atlantic coasts, normally between Could and November, although few make landfall as a Class 5.
Earlier this week, Tropical Storm Norma left three folks useless, together with a toddler, after making landfall for a second time within the northwestern state of Sinaloa.
Norma got here ashore for the primary time on the Baja California peninsula on Saturday earlier than heading again out to sea, later barreling into the mainland.
Earlier this month, two folks died when Hurricane Lidia, an "extraordinarily harmful" Class 4 storm, struck the western states of Jalisco and Nayarit.
And in August, storm Hilary, which at one level was additionally a Class 4 hurricane, prompted one dying and broken infrastructure because it hit Baja California.
Scientists have warned that storms have gotten extra highly effective because the world will get hotter with local weather change.
function loadGtagEvents(isGoogleCampaignActive) { if (!isGoogleCampaignActive) { return; } var id = document.getElementById('toi-plus-google-campaign'); if (id) { return; } (function(f, b, e, v, n, t, s) { t = b.createElement(e); t.async = !0; t.defer = !0; t.src = v; t.id = 'toi-plus-google-campaign'; s = b.getElementsByTagName(e)[0]; s.parentNode.insertBefore(t, s); })(f, b, e, 'https://www.googletagmanager.com/gtag/js?id=AW-877820074', n, t, s); };
function loadSurvicateJs(isSurvicateActive){ if(!isSurvicateActive){ return; }
(function(w) { var s = document.createElement('script'); s.src="https://survey.survicate.com/workspaces/0be6ae9845d14a7c8ff08a7a00bd9b21/web_surveys.js"; s.async = true; var e = document.getElementsByTagName('script')[0]; e.parentNode.insertBefore(s, e); })(window);
}
window.TimesApps = window.TimesApps || {}; var TimesApps = window.TimesApps; TimesApps.toiPlusEvents = function(config) { var isConfigAvailable = "toiplus_site_settings" in f && "isFBCampaignActive" in f.toiplus_site_settings && "isGoogleCampaignActive" in f.toiplus_site_settings; var isPrimeUser = window.isPrime; if (isConfigAvailable && !isPrimeUser) { loadGtagEvents(f.toiplus_site_settings.isGoogleCampaignActive); loadFBEvents(f.toiplus_site_settings.isFBCampaignActive); loadSurvicateJs(f.toiplus_site_settings.isSurvicateActive); } else { var JarvisUrl="https://jarvis.indiatimes.com/v1/feeds/toi_plus/site_settings/643526e21443833f0c454615?db_env=published"; window.getFromClient(JarvisUrl, function(config){ if (config) { loadGtagEvents(config?.isGoogleCampaignActive); loadFBEvents(config?.isFBCampaignActive); loadSurvicateJs(config?.isSurvicateActive); } }) } }; })( window, document, 'script', );