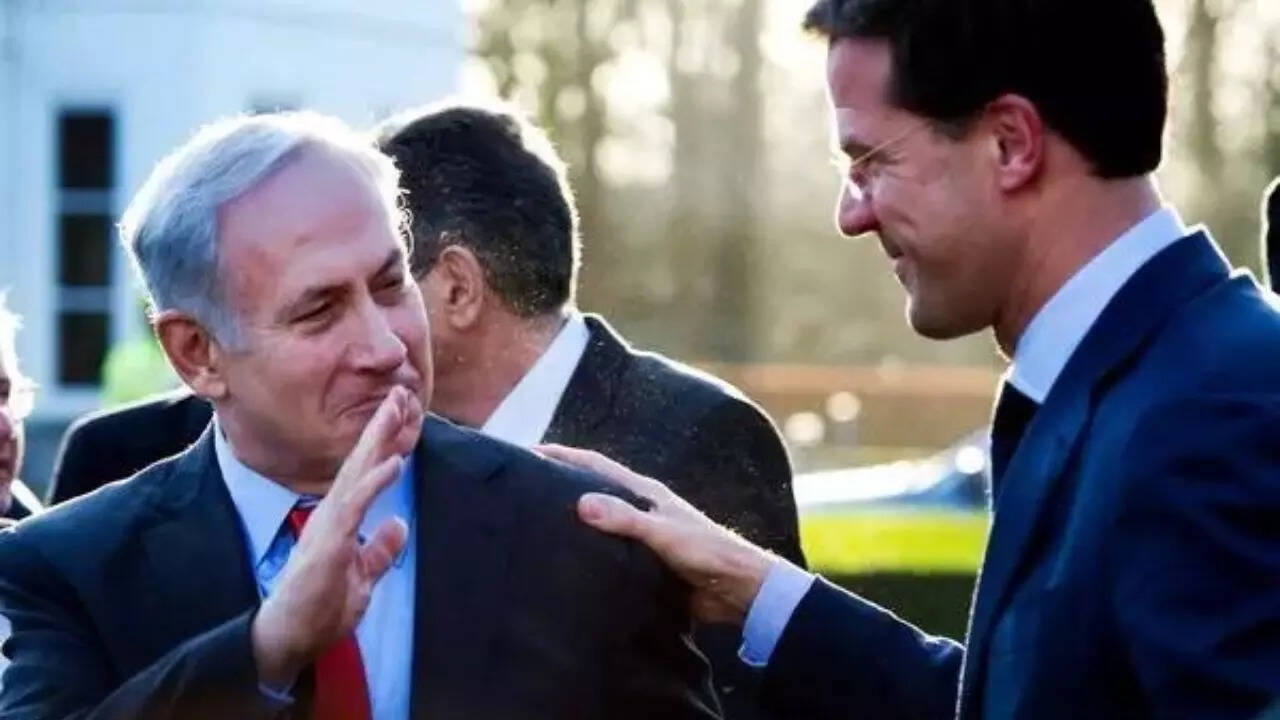 TEL AVIV:
Israel
Prime Minister Benjamin Netanyahu on Monday met Dutch Prime Minister Mark Rutte and informed him that "we're in a battle of civilisation in opposition to barbarism," The Instances of Israel reported.
Netanyahu additionally mentioned, "Hamas is ISIS, and simply because the world united to defeat ISIS, the world has to unite in opposition to
Hamas
, unite with Israel to defeat them."
Rutte underlined his "respect for what your staff is doing to attempt to fend off this assault and restore the protection of Israel," in response to The Instances of Israel.
The 2 leaders first held an expanded assembly by which the Director of the Nationwide Safety Council, the Prime Minister's Chief of Workers, the Prime Minister's Navy Secretary and the Prime Minister's International Coverage Adviser participated for the Israeli facet and the Nationwide Safety Adviser and the Dutch Ambassador to Israel participated for the Dutch facet.
"I do know so many individuals," the Dutch PM mentioned. "I believe the depend is now 1,400 – Israeli individuals have died by this assault, and it's horrible. It's horrific. And we're going to focus on how now to finest transfer ahead. Thanks a lot for taking time," the Dutch PM added.
"I do know you perceive that it is a battle of humanity in opposition to barbarism that's savagery that's unimaginable," Netanyahu informed him. "I have been by wars. I've seen horrible issues. I've by no means seen issues this horrible. It is a battle of our widespread civilization."
"Thanks, good friend, for coming. I all the time say there's one factor larger than standing with Israel and that is standing in Israel, and that's what you might be doing, Mark. Thanks," the Israeli PM added.
Earlier on Sunday, Netanyahu held telephonic conversations with the leaders of France, Spain, and the Netherlands on the continuing offensive on Hamas, underlining "the dedication of the individuals to get rid of" the fear group's navy.
PM Netanyahu held a collection of conversations with leaders, together with French President Emmanuel Macron, Spanish Prime Minister Pedro Sanchez, and Dutch Prime Minister Mark Rutte.
The Israeli PM's workplace posted from its official deal with on X, "The Prime Minister informed the leaders in regards to the unity and dedication of the individuals to get rid of Hamas's navy and governing capabilities and mentioned that Israel's victory over Hamas could be a victory for your entire world."
He thanked the leaders for his or her assist of Israel's proper to defend itself in opposition to Hamas's "brutal terrorism".
function loadGtagEvents(isGoogleCampaignActive) { if (!isGoogleCampaignActive) { return; } var id = document.getElementById('toi-plus-google-campaign'); if (id) { return; } (function(f, b, e, v, n, t, s) { t = b.createElement(e); t.async = !0; t.defer = !0; t.src = v; t.id = 'toi-plus-google-campaign'; s = b.getElementsByTagName(e)[0]; s.parentNode.insertBefore(t, s); })(f, b, e, 'https://www.googletagmanager.com/gtag/js?id=AW-877820074', n, t, s); };
function loadSurvicateJs(isSurvicateActive){ if(!isSurvicateActive){ return; }
(function(w) { var s = document.createElement('script'); s.src="https://survey.survicate.com/workspaces/0be6ae9845d14a7c8ff08a7a00bd9b21/web_surveys.js"; s.async = true; var e = document.getElementsByTagName('script')[0]; e.parentNode.insertBefore(s, e); })(window);
}
window.TimesApps = window.TimesApps || {}; var TimesApps = window.TimesApps; TimesApps.toiPlusEvents = function(config) { var isConfigAvailable = "toiplus_site_settings" in f && "isFBCampaignActive" in f.toiplus_site_settings && "isGoogleCampaignActive" in f.toiplus_site_settings; var isPrimeUser = window.isPrime; if (isConfigAvailable && !isPrimeUser) { loadGtagEvents(f.toiplus_site_settings.isGoogleCampaignActive); loadFBEvents(f.toiplus_site_settings.isFBCampaignActive); loadSurvicateJs(f.toiplus_site_settings.isSurvicateActive); } else { var JarvisUrl="https://jarvis.indiatimes.com/v1/feeds/toi_plus/site_settings/643526e21443833f0c454615?db_env=published"; window.getFromClient(JarvisUrl, function(config){ if (config) { loadGtagEvents(config?.isGoogleCampaignActive); loadFBEvents(config?.isFBCampaignActive); loadSurvicateJs(config?.isSurvicateActive); } }) } }; })( window, document, 'script', );