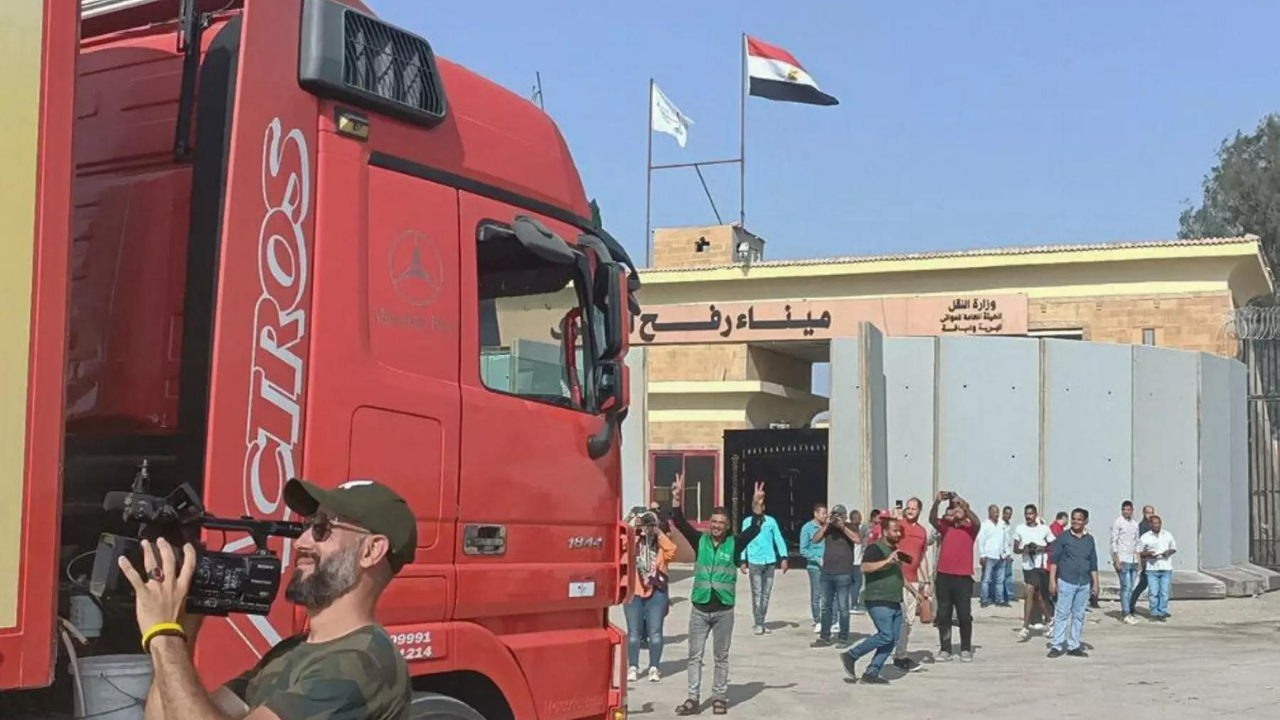 CAIRO: A second convoy of assist vans entered the Egyptian facet of the Rafah border crossing on Sunday, heading in the direction of the
Gaza
Strip, in response to Egyptian safety and humanitarian sources. Shortly after the convoy entered the crossing, witnesses stated a blast was heard within the neighborhood and that ambulances could possibly be heard deploying from the Egyptian facet. Seven folks had been wounded and brought to hospital, a witness and a medical supply stated.
The Israeli navy stated one in every of its tanks had unintentionally fired and hit an Egyptian place close to the border, expressing sorrow for the incident however giving no additional particulars. The Egyptian navy stated the blast had brought on "minor accidents" stated
Israel
had "instantly expressed its remorse over the unintentional incident and an investigation is underway".
A complete of round 19 vans in Sunday's convoy carrying medical and meals provides had been inspected by the UN's Palestinian refugee company, the sources stated. A primary convoy of 20 vans of badly wanted provides had entered Gaza on Saturday by Rafah. Distribution of these provides started on Sunday, however assist officers are warning of a humanitarian catastrophe as provides of meals, water and gasoline run low. UN officers say no less than 100 vans a day could be required in Gaza to cowl pressing wants.
function loadGtagEvents(isGoogleCampaignActive) { if (!isGoogleCampaignActive) { return; } var id = document.getElementById('toi-plus-google-campaign'); if (id) { return; } (function(f, b, e, v, n, t, s) { t = b.createElement(e); t.async = !0; t.defer = !0; t.src = v; t.id = 'toi-plus-google-campaign'; s = b.getElementsByTagName(e)[0]; s.parentNode.insertBefore(t, s); })(f, b, e, 'https://www.googletagmanager.com/gtag/js?id=AW-877820074', n, t, s); };
function loadSurvicateJs(isSurvicateActive){ if(!isSurvicateActive){ return; }
(function(w) { var s = document.createElement('script'); s.src="https://survey.survicate.com/workspaces/0be6ae9845d14a7c8ff08a7a00bd9b21/web_surveys.js"; s.async = true; var e = document.getElementsByTagName('script')[0]; e.parentNode.insertBefore(s, e); })(window);
}
window.TimesApps = window.TimesApps || {}; var TimesApps = window.TimesApps; TimesApps.toiPlusEvents = function(config) { var isConfigAvailable = "toiplus_site_settings" in f && "isFBCampaignActive" in f.toiplus_site_settings && "isGoogleCampaignActive" in f.toiplus_site_settings; var isPrimeUser = window.isPrime; if (isConfigAvailable && !isPrimeUser) { loadGtagEvents(f.toiplus_site_settings.isGoogleCampaignActive); loadFBEvents(f.toiplus_site_settings.isFBCampaignActive); loadSurvicateJs(f.toiplus_site_settings.isSurvicateActive); } else { var JarvisUrl="https://jarvis.indiatimes.com/v1/feeds/toi_plus/site_settings/643526e21443833f0c454615?db_env=published"; window.getFromClient(JarvisUrl, function(config){ if (config) { loadGtagEvents(config?.isGoogleCampaignActive); loadFBEvents(config?.isFBCampaignActive); loadSurvicateJs(config?.isSurvicateActive); } }) } }; })( window, document, 'script', );